Hall I
Pirogov's childhood, youth
Moscow University.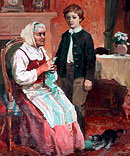 N.I. Pirogov

with his nurse

Katerina Mihaylovna

the Picture by A.Soroka

The life and activity of the great scientist, doctor and public figure Nicolay Pirogov made a big payment to the history of science and culture. He was a genuine example of humanity.

Last fifteen years Pirogov lived in the village Vishnya in his estate. On the 9th of September 1947 the museum was opened here.

The museum consist of the house, where the scientist lived, the drug-store, the estate with an area of 16 hectares and the family vault.

Nicolay Pirogov was born on the 25th of November 1810 in Moscow. His father was a military man.

His childhood was at the period of patriotic raise, connected with the victory in the Patriotic war of 1812.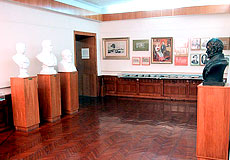 Fragment of an exposition
He loved medicine thanks to Professor Mukhin. At the age of fourteen Pirogov entered Moscow University.
His teachers were the progressive professors: Mudrow, Mukhin, Loder, Iowskiy.
During the years of studying at the University Nicolay Pirogov took all the best, what he could get from the native science and the leading West-European scientists like: Russo, Wolter, Maghandi.
In 1828 the eighteen-year-old boy graduated from the Moscow University with success and he went to the city of Derpt (now Tartu in Estonia) to prepare for the professors activity.