Hall III
Pirogov – the Professor of Derpt University.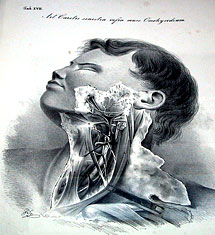 The table of N.Pirogov's atlas "S

urgical anatomy of arterial Trunks and Facsiae

" Derpt, 1836.

In 1836 Pirogov was elected as a professor of theoretical and practical surgery at the Derpt University, he worked there till 1841.

From the very first steps in science, Pirogov gave himself up to it.

The young scientist never concealed his mistakes, the bright evidence of it is his work "Annals of Surgical clinics of Derpt University".

In Derpt Pirogov created his fundamental work "Surgical anatomy of Arterial Trunks and Fasciae".

In 1840 his new work "About Cutting of Ahill Tendom as the operating-orthopedical means of treatment" was published, in which the author characterized his understanding of unity of theory and practice.

Under his guidance 14 thesis papers were written, they were devoted to the main problems of surgery.