Hall IV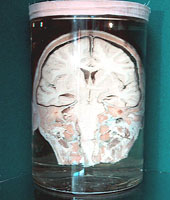 Pirogov's anatomical preparations
Pirogov is the Proffessor of the St-Petersburg Academy of Medical Surgery
At the beginning of 1841 Pirogov was elected as a professor of a new chair in the St. Petersburg Academy of Medical Surgery. Here the most fruitful period of the scientific activity began.
Society met his works with a great interest: "The Full Course of Applied Anatomy of the Human Body", "Anatomical Description of Outer View and Position of Organs", "Pathological Anatomy of Asiatic Cholera". These works are still used by doctors of different specialities.
Together with professor Ber and professor Zeidlits the scientist made the project of creating the Anatomic Institute, where students and doctors could improve their knowledge on anatomy and Surgery.
Tables of Pirogov's atlas
Pirogov's innovations were of great importance not only for the development of hospital business in the Academy of Medical Surgery but for the whole Russia.
He paid attention to the organization of work of medical staff, the order of hospitalizing sick people, scientifically proved the building of hospitals.
In 1847 in Caucasus the scientist applied ether in operations for the first time and proposed a starched immovable bandage for bullet fractures, which he later substituted with a fixed bandage.
Among the scientific works of Pirogov there is a particular one, called "Topography Anatomy of Sawing, performed on Frozen Corpses".