Hall V
Pirogov's activity in Sevastopol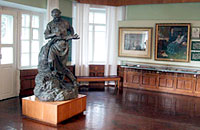 In the foreground a sculptural composition "Pirogov and the sailor". Sculptor V.M.Druzin

In October 1854 Pirogov went to the Crimea with a group of doctors.

All his activity was directed to help to the wounded people.

He worked hardly impressing with his efficiency and aptitude for getting in time to help everywhere.

Nicolay Pirogov became a hero of medicine in Sevastopol. Thousands of defenders of the city repeated his name with gratitude.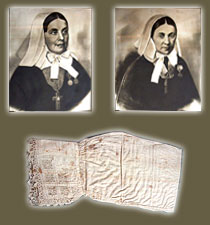 E. Bakunina, E. Kartseva - the general sisters of charity. Sevastopol, 1854-1855.

An oversleeve of the sister of charity E. Vingren on which hands of wounded admiral P.S.Nakhimov has died fatally
Pirogov's the most important merits are: the sorting of the wounded and sick according to the character and location of the wound, arrangement of transport department, using of anaesthetisation and fixed bandage, determination of amount of surgical help in the conditions of military district, introduction of the statute of nurses and organization of their work and help to the wounded and sick.
His great ability to do observations and his possibility to do an undeniable conclusion that "Not a medicine, but an administration plays the main role in the business of help to the wounded and sick on the theatre of war".
The participation of the great surgeon in the defense of Sevastopol had an important meaning not only for the military medicine, but for civil health protection.