The gallery of main building
Pirogov's activity during the French-Prussian and the Russian-Turkish Wars.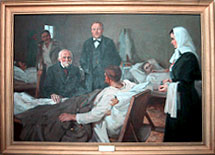 N. Pirogov and S. Botkin at a hospital, 1877. The painting of I. Tikhiy

In 1870 the Red Cross Association invited Pirogov to examine hospitals, medical institutions to get his conclusions on arrangements of the help to the wounded people during the French-Prussian War.

On returning from the arrival Pirogov wrote "A Report on Medical Service Arrangements in the War troops in Germany, Lorraine and Alsace in 1870".

In 7 years Pirogov again inspected medical institutions (by the request of the Red Cross Association).

This time it was the Russian-Turkish War.

During this trip the scientist wanted to check, how his ideas are used in practice. He noted some defects, but he was Convinced of his correctly formed principles. The materials of inspection he stated in his work – "Military Medical Practice and Personal Assistance in the Theatre of War in Bulgaria and in the Rear of the Acting Army in 1877-1878".

This work was the further stage of development of military – field surgery and it came into the treasury of world medical literature.