Hall II
The Studying at Professor's Institute.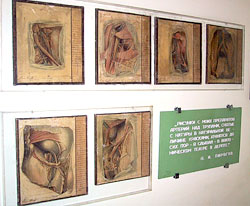 Pictures from N.Pirogov's preparations.
F.Shlater, 1832, Derpt

From the first days of staying in Derpt Pirogov gave great attention to the practical study of anatomy and to the experiments on animals.

His teacher was one of the progressive scientists, professor of theoretical and practical surgery I.Moyer (1786-1858). Pirogov spent his free time at his teacher's house.

In 1829 Medical Faculty awarded Pirogov with a gold medal for investigations in tieing up of arteries.

At the age of 22 the young scientist defended the Doctor's thesis paper.

The subject of the thesis paper was: "The Tieing up of Abdominal Aorta" After it Pirogov went to Germany, where he improved his knowledge at the clinics and laboratories of famous German scientists.