Hall VI
Pirogov is the Supervisor of Teaching Institutions
Pirogov's merits on the field of popular education are not lesser than in the medicine.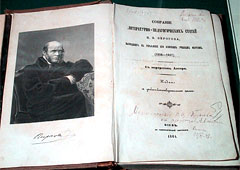 The collection of literary-pedagogical clauses of Pirogov's
In 1856 an original article "The Question of life" appeared, which attracted attention of Russian public to the important questions of education. "Question of life" was highly valued by democrats: Chernyshewskiy and Dobrolyubow. Pirogov was offered to become the Supervisor of Teaching Institutions in the Odessa Region. Pirogov began an active work. But his progressive ideas and actions were in conflict with the concept of reactionary circles and he had to leave this post.
In 1858 he was transferred to the same post in Kyiv. He didn't betray his principles there also.
He was against bribery, furthered the opening of Sunday Schools.
The Supervisor's activity caused a conflict with the General-governor and his surroundings.
On the 13th of march in 1861 Pirogov was discharged from this post.
Pirogov with his family left Kyiv for the estate Vishnya, which he lad bought shortly before his discharge.
In 1862-1866 Pirogov was abroad. He was the leader of young Russian scientists of different specialities, who were preparing to work in Russian Universities.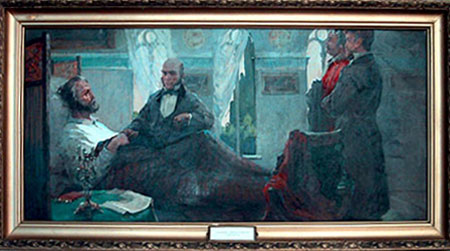 N. Pirogov is in the Guiseppe Garibaldis place. The painting of K. Kuznetsov.

From Germany Pirogov went to the wounded Juiseppe Garibaldi – the leader of the revolutionary movement for the unification of Italy. After examining him, the surgeon determined the real character of the wound and advised his own method of treatment , thanks to which Garibaldi recovered soon.
When Pirogov was abroad he wrote much about University education, published an important work "The Basis of General Military-Field Surgery".
In 1866 Pirogov settled in his estate finally.