Hall VIII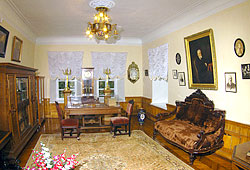 Pirogov's study
This room was Pirogov's study, where he wrote his last works, received patients, and here he wrote his "Diary of an old Doctor".
In 1881 Pirogov was seriously ill. He had cancer of upper jaw. This disease was the reason of his death. Pirogov died on the 23rd of November (5th of December) in 1881.
Doctor Vyvodtsev from St.-Petersburg arrived in Vinnitsa on the 3rd day after Scientist's death. He made an embalming of Pirogov's body.